Grounded



Grounded is an ongoing project which explores somatic, psychological & cultural aspects of internet viral memes, specifically Photo & Video participatory Fads, which require the physical presence of the participating humans in the image itself.
Within this ongoing series, there are currently two sets: Planking, Owling; and another currently in production: Shoe on Head.


Shoe on Head consists of 12 hand-embroidered pieces on vellum paper, and is currently under production. These new pieces integrate two new interests:
- An interest in transparencies and transparencies can be seen as a parallel to human behavioral complexity.
- An interest in memes as a cultural element that has become a part of the cultural zeitgeist, but also one that has an affect on human psychology and self-identity.

You can follow the progression of these new works on my instagram feed, by clicking here and following: ︎


---
Planking
Hand embroidery on archival Arches paper
2016.

Planking is a series consisting of 6 hand embroidered pieces on paper, and explores the significance of the required body posture to participate in this specific photo fad- a suspended, rigid, unmoving body- when taken out of the context of its other main requirement, which indicates that the participatory photo must be registered in a public space.

---
Owling
Hand embroidery on archival Arches paper
2017.

Owling consists of 6 hand-embroidered pieces on paper, and is a commentary on the playfulness of human postures during games that give us back a sense of playfulness, whatever our age may be. The "Owling" meme came about as a response to the previous meme fad "Planking", and this photo fad refers to the act of sitting in a perched position while looking off into the distance as to mimic the posture of an owl. These pieces show an evolution in the works, where they are meant to be shown from both sides, unveiling part of the process of embroidering on paper, and in this way commenting on the nature of digital media, where surface value is not necessarily actual value- there is always more than seems to the naked eye.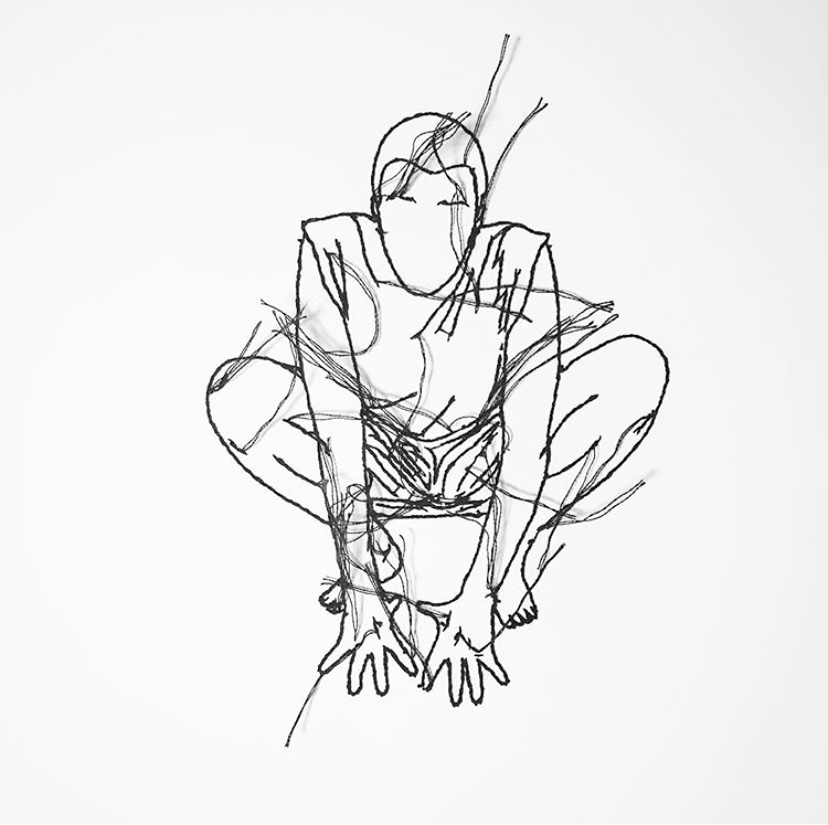 Lava

Sample
Hand-embroidery on habotai silk, lava intervention with gilding.
2018.


This ongoing series which explores the dialogue between human culture and nature's cycle of renewal.
The series also explores notions of human perception and interpretation of natural phenomena, the silence & materiality of newly created existence (new land) as a point of infinite possibility, as something that may be seen as something precious.
These will be the first pieces in a much larger scale than I am used to working on, and explores the furthering of dialogue between photography as contemporary art and embroidery and other craft techniques, bridging the distance between the two via use of specific materials & techniques such as gilding on textiles and embroidery illustration based on photographic images.



Paysages pour des insectes
Paysage 1
Digital archival prints, lapidary, silver, wire.
2015.